Time until your wedding
View in Fullscreen
Countdown To Your Wedding Day
Wedding planning is an exciting but often stressful period, with many things to keep track of.
The countdown to your special day is a vital component of wedding planning, and our website's Wedding Day Countdown feature may help you keep organized and on track.
How Our Wedding Day Countdown Works
One of the most significant days of your life is your wedding day, therefore you want to let everyone know when it is.
One method is to use the wedding countdown on our website. This countdown will indicate the number of days, hours, minutes, and seconds until your wedding day arrives, making it easy for your guests to keep track of the time.
You simply need to set the date and time of your wedding on our website and wait as the countdown gives an accurate amount of time left.
Our website will display a timer to calculate the exact number of days, hours, minutes, and seconds until your big day.
Why Knowing How Many Days Are Left Before Your Wedding is Important
It's crucial to keep track of the number of days until your wedding because there is so much planning and preparation that goes into this particular day. Keeping track of the days leading up to your wedding is crucial for the following reasons:
You can manage your time more effectively. You can better manage your schedule when you are aware of how much time is remaining until your wedding.
You'll be able to stay on budget. Keeping track of how many days are left before your wedding will help you remain within your budget because weddings can be pricey. Knowing when things will happen will help you budget your money, curb your need to buy things you don't need, and make sure your finances are in order.
Ensure that your guests are informed and prepared. You can post updates and reminders regarding the wedding day and help your guests feel excited and prepared for the big occasion by keeping track of the countdown.
Reduce stress and anxiety. Keeping track of the number of days until your wedding can help you stay focused and reduce tension and worry. It might also assist you in being motivated and eager about the big day.
It's vital to keep track of the days till your wedding for a variety of reasons. Hence, keep an eye on the timer and begin to anticipate your special day. Our wedding countdown app is surely a great tool that can assist you in your wedding plans.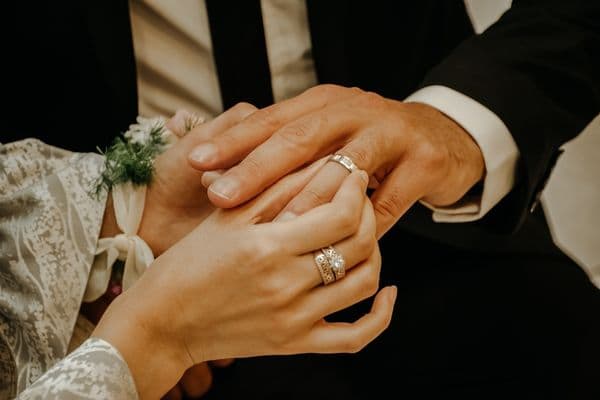 Popular Wedding Themes and Styles
Every year, wedding themes and fashion trends change. Choosing a theme and style that reflect your and your partner's personality and vision, on the other hand, can make the celebration even more memorable. The most popular wedding themes and fashions are listed below for your planning inspiration:
Rustic: For couples who like the great outdoors and desire a warm and inviting setting, rustic weddings are ideal.
Vintage: For couples that appreciate the elegance of the past, a vintage wedding is ideal.
Bohemian: For couples seeking a laid-back and free-spirited setting, a bohemian wedding is ideal.
Beach: For couples who enjoy the sun, sand, and sea, a beach wedding is ideal.
Modern: Couples that value simplicity and clean lines can consider having a modern wedding.
Fairytale: For couples that want to experience a royal wedding on their special day, a fairytale wedding is ideal.
Country: For couples who enjoy a relaxed and informal ambiance, a rural wedding is ideal.
Choosing a wedding theme and style is a significant decision that can enhance the experience of your special day. Whether you choose rustic charm, vintage elegance, or modern simplicity, there is a wedding theme and style to suit your personality and vision.
Preparing For Your Wedding Day
Planning for your wedding is an exciting time for anyone. Nevertheless, if you don't know where to begin, it might be a little intimidating. Fortunately, there are several simple ideas you can use to help you prepare for your big day.
The first step in wedding preparation is to create a budget. To avoid overpaying, establish a budget and allot funds for specific components of the wedding. The next critical step is to select a date.
Select a date that works for you, your partner, and any special guests. Select a venue that meets your budget and number of guests, is accessible, and is available. Preparing your wedding decor and details will help to make your wedding day even more memorable.
What Wedding Attire Is Best For You
Whether you're the bride or the groom, your wedding attire should reflect your personal style and make you feel good on your special day. This part of the article will help you pick out the best type of clothing you can wear on your wedding day.
There are a few options for a wedding dress for guys to select based on the style and formality of the event. A basic black or navy tuxedo is a timeless outfit that is appropriate for a formal evening wedding. Another popular option is a modern suit, which is ideal for a more relaxed and casual wedding.
The bride's wedding dress is the focal point of her ensemble and can determine the mood for the entire day. A classic option is a white or ivory gown, while a more contemporary, colorful gown can be a terrific choice for a less formal wedding. The bride's outfit also includes accessories, which can be employed to give the outfit some flair.
Why are Wedding Days So Important?
Weddings mark the start of a new chapter in life as well as a celebration of love and commitment. These are momentous occasions that bring family and friends together to celebrate the joy and happiness of the occasion and mark a key turning point in a couple's lives.
Weddings are important because they commemorate love, commitment, and the beginning of a new journey. They bring family and friends together to celebrate the occasion, establishing lasting memories and traditions.
Weddings also provide an opportunity to showcase personal flair, deepen relationships, and express gratitude to loved ones. Weddings, above all, are a celebration of love and commitment, as well as the start of a new and exciting chapter in life.
What Are The Best Wedding Gifts and Favors?
Wedding favors and gifts are a beautiful way to thank your guests for coming and celebrating with you on your special day. There are a ton of creative choices available, and each one is distinctive and special in its own way. The following are simple suggestions on what you could bring on the wedding:
Personalized tote bags are a useful and fashionable wedding gift that your guests can use long after the ceremony.
Donating to charities is a genuine and meaningful way to give back on your wedding day.
Customized art prints make lovely and creative suggestions for wedding presents.
Cocktails with Personalization. Having beverages with personalization is a fun and festive way to make your wedding feel more unique.
There are numerous unique and alternative wedding gift ideas available to show your gratitude and appreciation to your guests. The suggestions above are sure to make an impression and make your wedding day one to remember.
FAQS
A wedding is a formal ceremony and celebration that marks the beginning of a marriage. It is a significant event where two individuals come together to make a lifelong commitment to each other.
Key components of a wedding ceremony include:
Exchange of Vows: The couple expresses their promises and commitments to each other.
Exchange of Rings: The symbolic exchange of wedding rings as a sign of unity and commitment.
Officiant or Celebrant: The person who leads the ceremony and presides over the vows and rituals.
Readings or Speeches: Readings or speeches that may be religious, cultural, or personal in nature.
Rituals and Traditions: Cultural or religious customs that hold significance for the couple.
Declaration of Marriage: The officiant announces the couple as legally married.
Popular wedding traditions include:
Walking Down the Aisle: The entrance of the bride, often accompanied by music.
Exchanging Vows and Rings: The central promises and symbolic exchange of rings.
The First Kiss: The couple's first kiss as a married pair.
Cutting the Cake: The couple cuts the wedding cake together, symbolizing the first task they do as a married couple.
First Dance: The couple's inaugural dance together as a married couple.
Bouquet Toss and Garter Toss: Fun traditions involving the throwing of the bride's bouquet and the groom's garter to single guests.
There are various types of wedding ceremonies, including:
Religious Ceremonies: Conducted within a religious institution and officiated by a religious leader.
Civil Ceremonies: Conducted by a government-appointed official, such as a justice of the peace.
Destination Weddings: Held in a location away from the couple's hometown, often in a picturesque destination.
Themed Weddings: Incorporate a specific theme or motif chosen by the couple.
Elopements: A private and intimate ceremony, often with just the couple present.
Same-Sex Weddings: Celebrate the union of two individuals of the same gender.
Wedding rings symbolize the eternal and unending nature of a marriage. They are typically worn on the fourth finger of the left hand, as it was historically believed that a vein in that finger (the 'vena amoris') led directly to the heart.
To plan a wedding, consider the following steps:
Set a Budget: Determine how much you're willing to spend on various aspects of the wedding.
Choose a Date and Venue: Select a date and secure a venue for the ceremony and reception.
Guest List and Invitations: Compile a guest list and send out invitations well in advance.
Select Attire: Choose wedding attire for the bride, groom, and wedding party.
Arrange Catering and Cake: Decide on the menu and order the wedding cake.
Plan Decor and Flowers: Decide on decorations and floral arrangements.
Book Music and Entertainment: Arrange for music or entertainment during the ceremony and reception.
Obtain Marriage License: Ensure you have the necessary legal documentation for the wedding.
Coordinate Transportation: Arrange transportation for the wedding party and guests if needed.
Photography and Videography: Hire professionals to capture the moments of the day.