Time until your cruise
View in Fullscreen
You may also like one of our other countdowns:
Your Cruise Countdown App
Are you dreaming of your next vacation? A cruise is a great way to explore new destinations, relax in luxurious accommodations, and enjoy a variety of activities and entertainment options. But before you set sail, it's important to start your cruise countdown and prepare for a memorable experience.
Introduction
Cruising has become a popular vacation option for travelers all over the world, offering a unique way to explore new destinations while enjoying the comforts of a luxury floating resort. In this blog post, we will explore the world of cruises, from their origins to the different types of cruises available today.
What is a cruise?
At its core, a cruise is a vacation that takes place on a ship or a boat, often in the form of a round-trip journey to multiple destinations. Unlike other forms of travel, cruises offer the convenience of unpacking only once while enjoying various ports of call, entertainment, dining options, and onboard activities.
From the moment you step on board, the ship becomes your floating hotel, providing all the necessary amenities and services to ensure a comfortable and enjoyable experience.
When was the first cruise?
Cruises have been around for centuries, but they have evolved considerably from their early days as cargo and transportation vessels. The first pleasure cruise is believed to have been organized by the Peninsular and Oriental Steam Navigation Company in 1844, which took British tourists from Southampton to destinations such as Gibraltar, Malta, and Athens.
The popularity of cruises increased in the 20th century, particularly after World War II, when transatlantic ocean liners such as the Queen Mary and Queen Elizabeth offered regular passenger service between Europe and North America.
In the 1960s, the first modern cruise ships were introduced, marking a new era of cruising as a mainstream vacation option.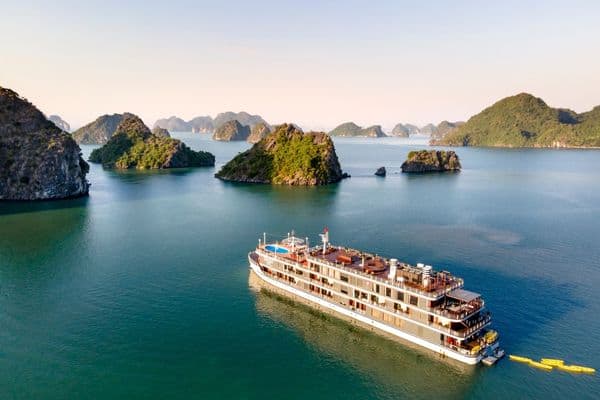 Importance of cruises in modern times
Today, cruises are one of the fastest-growing segments of the travel industry, with millions of people embarking on cruises every year.
They offer a unique and convenient way to explore multiple destinations while enjoying all the amenities of a luxury hotel. Cruising is also a significant contributor to the global economy, creating jobs and generating revenue for port cities and the tourism industry.
With the evolution of technology, new innovations such as eco-friendly ships and virtual reality experiences are changing the cruising landscape, making it an exciting time to experience this popular form of travel.
Types of cruises
There are various types of cruises to suit different preferences, budgets, and travel goals. Let's take a closer look at some of the most popular options:
Ocean cruises
Ocean cruises are the most common type of cruise, offering passengers the chance to sail across the open seas while visiting multiple destinations.
These ships are often large and equipped with numerous amenities, such as multiple dining options, entertainment venues, spas, fitness centers, and shopping areas. Ocean cruises cater to a wide range of travelers, from families to couples to solo travelers.
River cruises
River cruises provide a unique opportunity to explore inland waterways and smaller ports of call. River cruise ships are generally smaller than ocean cruise ships and can navigate narrow waterways and shallow waters.
These cruises offer a more intimate and immersive experience, often focusing on cultural and historical sites. River cruises are becoming increasingly popular, particularly in Europe and Asia.
Expedition cruises
Expedition cruises are designed for adventurous travelers who want to explore remote and off-the-beaten-path destinations. These cruises offer opportunities for wildlife viewing, trekking, and other outdoor activities.
Expedition cruise ships are usually smaller and equipped with specialized equipment, such as Zodiacs and kayaks, to access remote areas. Destinations may include the polar regions, the Amazon, or the Galapagos Islands.
Luxury cruises
Luxury cruises provide the ultimate in pampering and indulgence, offering a high level of personalized service, gourmet dining, and luxurious accommodations.
These cruises are designed for discerning travelers who want a sophisticated and refined experience. Luxury cruise ships are often smaller and more intimate, with fewer passengers and a higher crew-to-passenger ratio.
Theme cruises
Theme cruises cater to specific interests such as food and wine, music, wellness, or adventure. These cruises offer specialized programming and activities related to the theme, providing a unique and immersive experience for passengers with similar interests.
Theme cruises can be found on ocean, river, and expedition ships and offer a great way to connect with like-minded individuals while enjoying a memorable vacation.
---
How Cruises Work
Understanding the different components of a cruise can help you choose the best cruise for your needs and preferences. Here's a closer look at the different elements that make up a typical cruise:
Cabins and Staterooms
Cabins and staterooms are where passengers will spend most of their time while on board. They come in various sizes and configurations, from basic interior cabins to spacious suites with balconies.
Cabins and staterooms are equipped with all the necessary amenities, including a private bathroom, comfortable beds, and storage space. Passengers can choose from various cabin categories based on their budget and preferences.
Dining and Food
Dining is an essential part of any cruise, and most ships offer a range of dining options to suit different tastes and budgets. Many cruises include meals in the cost of the ticket, while others charge extra for specialty dining options.
Dining options may include a main dining room, buffets, specialty restaurants, and 24-hour room service. Many ships also offer bars, lounges, and coffee shops for passengers to enjoy.
Entertainment and Activities
Cruise ships are like floating resorts, offering a wide range of entertainment and activities to keep passengers engaged throughout their journey. Entertainment options may include Broadway-style shows, live music, comedy acts, and movies.
Onboard activities can range from fitness classes and spa treatments to pool parties and onboard games. Many cruise ships also offer kids' clubs and teen centers to keep younger passengers entertained.
Amenities and Services
Cruise ships are designed to provide passengers with all the necessary amenities and services to ensure a comfortable and enjoyable experience. Amenities may include pools, hot tubs, fitness centers, spas, and shopping areas.
Services may include laundry, room service, medical services, and internet access. Cruise ships also provide various safety measures, such as lifeboats and emergency drills.
On-shore excursions
One of the biggest advantages of cruising is the opportunity to visit multiple destinations in a single trip. Cruise lines offer a range of on-shore excursions, allowing passengers to explore the local culture and attractions of each port of call.
Excursions may include guided tours, beach trips, adventure activities, and cultural experiences. Passengers can book excursions through the cruise line or choose to explore on their own.
Benefits of a Cruise
Cruising offers many benefits that make it a popular choice among travelers. Here are some of the advantages of taking a cruise:
Convenience and Comfort
Cruising offers a hassle-free way to travel. Passengers can visit multiple destinations without having to worry about transportation, lodging, and food.
Cruise ships are designed to provide a comfortable and safe environment, with all the necessary amenities and services at passengers' fingertips.
Variety and Flexibility
Cruising offers a wide range of destinations, itineraries, and activities, allowing passengers to customize their experience to their preferences. Whether you're looking for a relaxing beach vacation, an adventurous expedition, or a cultural immersion, there's a cruise for you.
Plus, most cruise lines offer flexible dining options, onboard activities, and on-shore excursions, giving passengers plenty of options to choose from.
Socialization and Networking
Cruising provides a great opportunity to meet new people and make new friends. With passengers from all over the world, you're likely to encounter people with different backgrounds and interests.
Plus, cruise ships offer plenty of social activities, such as dance classes, game nights, and cocktail parties, where you can mingle with other passengers.
Cost-effectiveness
Cruising can be a cost-effective way to travel, especially if you choose an all-inclusive package. Most cruises include accommodations, meals, and onboard entertainment in the cost of the ticket, which can save you money compared to booking everything separately.
Aside from having most of the day to day costs included, cruising eliminates the need for expensive flights and transportation between destinations.
Educational and Cultural Enrichment
Cruising can also be an enriching and educational experience. Many cruise lines offer educational programs, cultural activities, and lectures on various topics, from history and art to science and nature. On-shore excursions also provide an opportunity to learn about different cultures and traditions.
---
How to book a cruise
Choosing the right cruise can make all the difference in your experience. Here are some things to consider before booking a cruise:
Considerations before booking a cruise
Before booking a cruise, think about what you're looking for in a vacation. Consider factors such as the destination, itinerary, duration, budget, and type of cruise. Also, think about the type of atmosphere you're looking for, such as a party atmosphere or a more relaxed environment.
Research and Planning
Research and planning are crucial when it comes to choosing the right cruise. Do your research on different cruise lines, ships, and itineraries to find the one that suits your needs. Check online reviews, talk to friends who have gone on cruises, and consult with a travel agent to get the best advice.
Booking and payment options
When it comes to booking a cruise, there are many options to consider. You can book directly with the cruise line, through a travel agent, or online.
Each option has its pros and cons, so weigh them carefully. Also, consider the payment options available, such as paying in installments or using a credit card.
Packing and preparing for a cruise
Preparing for a cruise can be overwhelming, but with a little planning, it can be a breeze. Think about what you'll need to pack, such as clothing, toiletries, and travel documents. Also, consider any special activities or events you'll be participating in and pack accordingly.
Common mistakes to avoid
When booking and preparing for a cruise, there are some common mistakes to avoid. These include booking the wrong type of cruise, forgetting to bring essential items, overspending on extras, and not researching the ports of call.
By being aware of these mistakes, you can avoid them and have a more enjoyable cruise experience.
Conclusion
A cruise is a unique and exciting way to travel and explore the world's oceans and rivers. From ocean cruises to river cruises, luxury cruises to expedition cruises, there is a cruise out there for everyone. The benefits of cruising are many, from convenience and comfort to socialization and cultural enrichment.
However, choosing the right cruise can be daunting. That's why it's important to consider factors such as destination, budget, type of cruise, and atmosphere before booking. By doing your research and planning ahead, you can avoid common mistakes and have a fantastic cruise experience.
If you're wondering when to book a cruise, it's recommended to book as early as possible to secure the best deals and cabin options. So what are you waiting for? Start planning your dream cruise today!